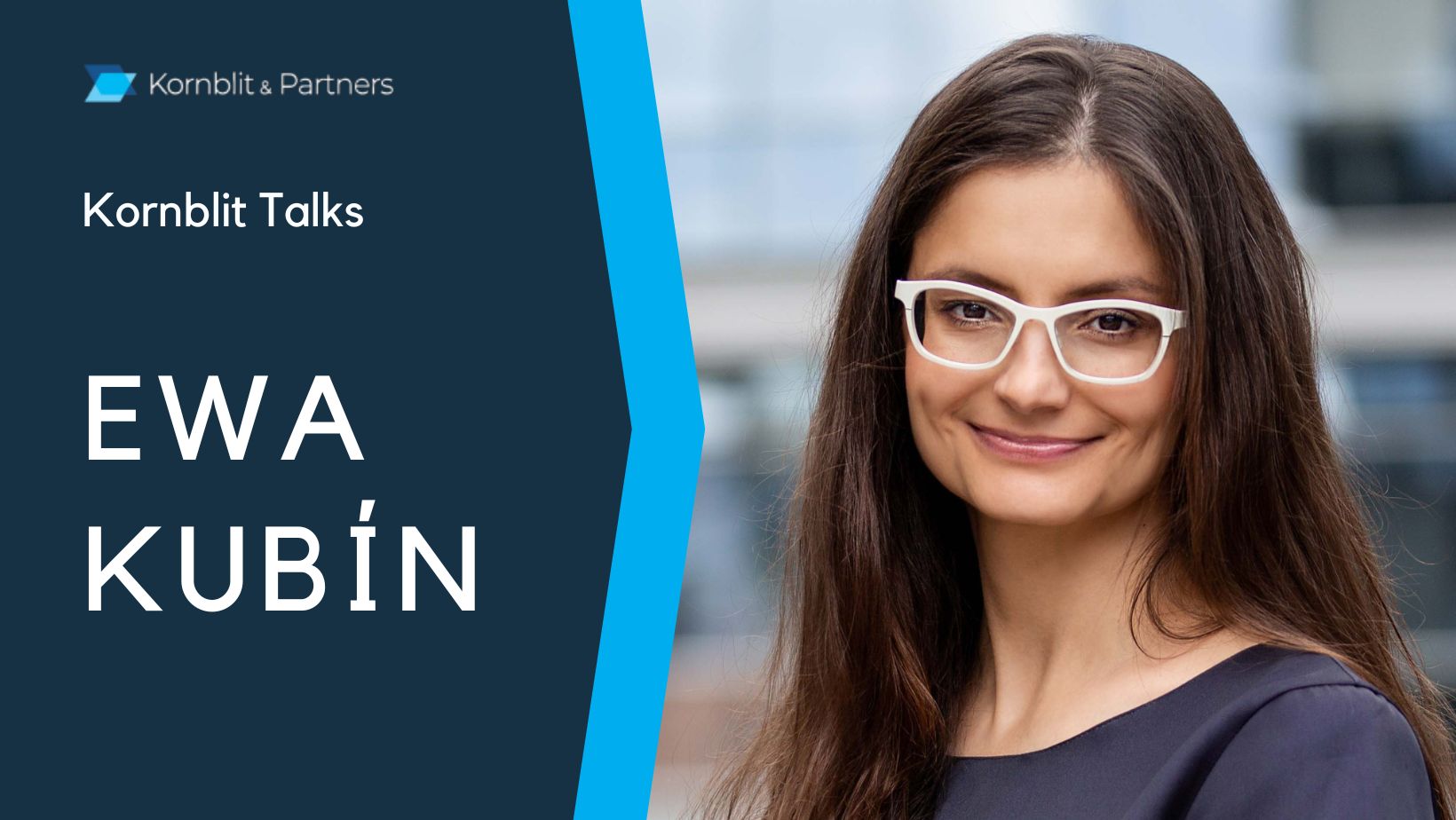 Kornblit Talks
Being a leader and taskmaster
"Whenever life gives me lemons, I make lemonade out of them. When embarking on challenging projects, I assume that they are worth trying" - Ewa Kubín talks about her unusual career path and the people to whom her work brings great satisfaction.
In the interview for Kornblit Talks Ewa Kubín talks about crucial issues regarding women leadership, among others:
Sisterhood in business
"Madeleine Albright, an American politician of Czech origin, once said that there is a special place in hell for women who do not help other women. I am convinced that there is also a special place in heaven for the women who generously extend their support to their fellow women."
Breaking glass ceilings
"One of the co-founders ascended her career ladder with the conviction that her home country in Northern Western Europe had shattered any glass ceilings. Until a junior colleague with limited experience was promoted to her coveted role. It was the pivotal moment that inspired her, alongside three other women, to establish European Women on Boards.
Now there are 850 of us, in 21 countries, plus member organizations. In Poland, these are Fundacja Liderek Biznesu and 30% Club Poland – that do a great job promoting diversity and developing women's leadership competencies."
Fighting stereotypes
"We still hear that women do not have enough competences to join management boards. This is an argument that is very difficult to argue with because it is not supported by any research so far. At EWoB, we have taken steps to address this concern by developing educational programs aimed at empowering women to cultivate the necessary skills for board-level positions: an international and intergenerational mentoring program, the Board Readiness program, and the C-level School for women who are just entering the highest positions in the organization."
Humble leadership
"People gravitate toward my leadership because I approach situations with a mindset that isn't fixated on always being right. Rather, I foster an environment that empowers my team members to contribute their insights.
When I push through challenging projects, I focus on people. First of all, I show the team that when they talk to each other and reach an agreement, financial results improve. So if we take care of the team and name the challenges early enough, a crisis does not have to occur."
Future HR that is not HR
"From a meta level, it is not the procedures that are important, but the individual person. In my opinion, HR should not only focus on the forest but also notice individual trees and their unique attributes. In this way, we will be able to recognize the uniqueness of our employees and, consequently, motivate them and optimally use their strengths. For the employee, it means appreciation and a sense of job satisfaction. For the company, it means economic benefits."
Changes driven by the new generation
"The younger generation places a high premium on diversity, making it a pivotal factor influencing their choice of an employer. To attract the finest young talents, a company must prioritize diversity and inclusive organizational environment. A shining illustration of company dedicated to fostering such a culture can be found at Żabka Polska, where I had the privilege of working."
If you want to live a life and develop professionally in harmony with your values, be sure to read this interview: full version available in Polish.